DENIM REMIX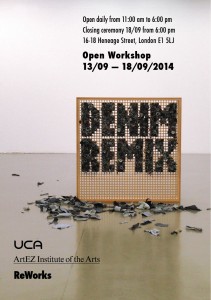 Open Workshop 13/09 – 18/09 /2014
Open daily from 11.00 am to 6.00 pm.
Closing ceremony:  18/09 from 6 pm.
16-18 Heneage Street, London E15LJ
www.reworks.org.uk
Denim is the most recognisable fabric in the world but one of the least environmentally friendly. Denim uses up huge amounts of water from the growing of its cotton fibres, the dyeing of its twilled threads and the finishing of jeans. Half of the denim we use ends up in landfill.   So it's time to ReMiX our use of denim: find new designs, new objects and new applications – using exclusively deadstock denim; jeans, jackets and shirts.
Between the 13th and 18th of September a workshop-exhibition at The Apricot Gallery in East London will be produced [in conjunction with ReWorKs UK] by students from the MA programmes at the University for the Creative Arts, Rochester and ArtEZ Institute of the Arts in Arnhem (NL).
This workshop uses existing denim in all its guises to collectively make a wide range of objects. Have you ever had blue denim sushi? watched videos in a denim tent? or had a denim face-tattoo? What about some denim and resin jewellery to take home? You can now – or rather from the 13th to the 18th of September, during London Fashion Week and the London Design Festival. For Denim ReMiX our international team of masters students is sponsored by ReWorKs UK.  ReWorKs sources surplus garments from around the world to design sustainable solutions for the global fashion industry.
www.reworks.org.uk
Come to the workshop to see for yourself how sustainable, collective and experimental denim can be. Wear your jeans but see how much more there is to ReMiXed denim. For denim The Netherlands is a major player: Amsterdam is the 'denim capital', ArtEZ Arnhem its creative engine. We are proud to support the international student exchange for Denim ReMiX. Need an excuse to come to London to see new design? Find it here between the 13th and 18th of September 2014 at The Apricot Gallery in 16-18 Heneage Street, London E15LJ